The 4th season of
Criss Angel Mindfreak
premiered last Wed. (07/ 23/08) on A&E. And I for one thought it was an amazing start to a mind-blowing season.
For those of you who haven't heard of Criss Angel, (honestly, have you been living under a rock?) he is known to be the greatest magician/illusionist of our time. If you don't believe me, check it out for yourself.
In this season premiere, you will see Criss Angel walk across a lake, see him remove a card from a man's head, and watch him survive being hit by a car.
The episode will air again on July 27th @ llpm on A&E.
Go to the
A & E website
for more Criss Angel information, videos, interactive goodies, and a link to his official site.
You can watch
Criss Angel Mindfreak
every Wednesday at 10pm. Also, make sure you tune in next week for a special live episode.
Are You Ready?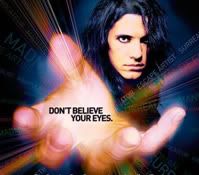 >